"We Live One Day at a Time": Understanding Conflict in the Donbas. A Travelogue
One evening, in August 2014, Veronika was collecting her son from kindergarten in a town near Donetsk, just like every other day. A ceasefire had been promised, she thought, and there had been no audible shelling for one or two weeks, then.
She bundled her son and the next-door neighbour's daughter onto her moped and set off home. For some reason, her son was nervous, and wanted them to stop awhile. But all was quiet. She pointed out to him that people were out in the streets, sunbathing on the beach, relaxing. All was fine; all was calm. They stood for three minutes, and suddenly the sky tore itself apart. Veronika's eyes watched as mines flew overhead, enormous, falling simultaneously, five in a layer. Her ears heard them explode as one. Her head felt the reverberation. Her legs failed.
Understanding that she had two children in her charge, one of whom – the neighbour's daughter – suffered from cerebral palsy and was unable to flee to safety, Veronika gathered one child in each arm and ran. She put them down by the side of a concrete drainage block, and threw her own body atop to protect them. She had 18 shards of shrapnel in her torso, but felt no pain. A second explosion. Her son wriggled his arm from underneath her, and shrapnel bored through his tiny bicep to the bone. A piece of metal pierced the left of Veronika's skull and burst through the other side, destroying her right eye in its path. More shards were embedded in her back. She had one goal: not to lose consciousness, to find someone and explain where to take her children. She hung on until the end. Raised her head. Saw a man walking. Shouted to him. Gave him her phone, the keys to the moped, and showed him her daughter's telephone number. "Call her," she said, "and tell her to come and pick up my son." Then she passed out.
I first met Veronika, in summer 2015, as I conducted field research into the conflict in Eastern Ukraine. That March, a woman from a church had taken Veronika and her family to Kharkiv, where she could receive better treatment. We sat at wooden benches in a pine forest on the outskirts of the city. As we talked, a girl from a neighbouring family drew princesses in my notebook. Veronika had developed a way of tapping her prosthetic eye with her fingernail for emphasis:
Look. Look. You see? It's glass. Look, listen: tap, tap, tap. You can see how it went through my head here. There's a hole. You see? And look at my side, here. The flesh is missing.
Veronika described her experience of conflict. She explained the disappointments and hopes that had been stirred by her move to Kharkiv, and her determination to claim her rights. Her narrative encapsulated the devastating pattern of harm caused by conflict: human trauma, population displacement, and the destruction of infrastructure.
My research was investigating how war affects human life. At the time, analysis of the "Ukrainian crisis" had devoted much breath and ink to the workings, motivations and strategies of global powers.
I was driven by the belief that the lives of ordinary people, caught up in this tragic situation, had a place in that debate. I wanted to connect the dominant state-centric perspective to human consequences; abstracted state machinations to their real impact; and statistics to the individual lives they represent.
I was unconvinced by the dichotomous conflict narrative, which, at its extreme, pits Russian terrorists against non-violent proponents of Ukrainian unity, or peaceful Donbas civilians against a fascist Nazi junta, depending on your point of view.
In an environment that was becoming destabilised and polarised, I sought to understand how ordinary people interpreted the events going on around them. It transpired that war is not as simple as "us and them." That "where we are" does not necessarily reflect "what we think," although it may do. Displacement does not neatly align with an ideology of Ukrainian unity. Remaining does not necessarily imply pro-separatism, or pro-Russianness.
Rather, decisions around flight are informed by physical and psychological abilities to stay, and linked to practical issues, threat perception and hope. Individuals navigate a complex of personal impulses and calculations, and group dynamics, creating and re-creating their own narratives.
Disinformation and an information vacuum have done much to obfuscate these subtleties. By examining more closely human stories, we can transform a binary approach to war that is false, divisive, and damaging.
A year and a handful of ceasefires since I met Veronika, fighting persists in the East. The beginning of 2017 was marked by violence of a long unseen intensity that many had hoped would never resurface. There have been peaks and troughs of violence – but no peace. Renewed local and international momentum for peace initiatives alternate with violations of the ceasefire.
Nikolai, a mediator and psychologist from Donetsk, is developing a crowdsourcing project to create a "living dialogue for peace and the resolution of issues crucial for Ukraine, Russia and Europe." He tells me: "Moving away from military adversary is a long, complex, and heavy process. There is less shooting, now, but rapprochement and reconciliation are far off." At the same time, the situation risks fading from the memory of a global community preoccupied with new disasters.
This article traces the path I took from Kyiv to Donetsk. It gives voice to a fraction of Ukraine's personal narratives from both sides of the contact line, and seeks to inspire new insight. Each account should be read not as a simple or isolated anecdote, but as one story among many that, when heard together unfold a violent pattern of war in the most mundane of everyday life.
All names have been changed.
***
I arrive for the first time in Kyiv and am struck immediately by its leafy green beauty – an explosion of trees. I absorb the city's hip summer vibe, meandering past clusters of musicians who entertain passers-by long into the balmy evenings. I am disconcerted that this does not feel like the capital of a state undergoing armed conflict.
And yet, traces of warfare materialise at every turn. A roommate is training combatants and others how to perform first aid in a conflict zone. A sign at the railway station details hotline numbers for internally displaced persons (IDPs) arriving from the Donbas and Crimea. The city is awash with them, my taxi driver insists, there are over five million here now.
There are not.
Volunteers collect money for the army outside the corner shop, and on the adjacent street a center has sprung up to distribute humanitarian aid to IDPs. There are piles of clothes, but people are in need of "non-food items," I learn: blankets, sheets, a plate, a knife, a fork, a spoon, and there is not enough to go round. Can I source this cheaply? I will try.
I fail.
As I travel east, awareness of other urgent needs exposes the naïve hastiness of my promise.
I conduct meetings with humanitarian experts, and later meet Anna, the colleague of a friend for coffee. It transpires that she too, is an IDP. She moved from Donetsk last July [2014], when hostilities precipitated the relocation of her office and its staff to Kyiv. She has since moved jobs, and will later become concerned about how to keep up the luxury apartment that her previous employers found for her. But she moved to Kyiv "normally, of course," she says. "Properly."
Anna exudes energy and ambition. She likes Kyiv, but when she first moved, she could not bear the thought of her mother in Donetsk, as shells rained down. She phoned her mother nightly and implored her to join. She could not sleep; she could not be without her. "My brother, my grandmother, that's ok", she says, "but not my mummy." Eventually her mother came – Anna can be quite insistent, she thinks – leaving behind her husband, Anna's stepfather, who could not abandon his own elderly mother.
Her mother was disoriented at first, and cried often. She would telephone Anna in a panic from the shop across the street, cast adrift in this new city, and unable to retrace her steps. She's getting used to things now.
Some people see displacement as an opportunity, Anna says. Others are not exactly lazy, but they are not proactive and are waiting for change.
The meeting is cut short. My new acquaintance must dash to her salsa class and French lesson. She already speaks fluent Russian, Ukrainian, Italian and English, having worked abroad.
"And when I speak Ukrainian," she says proudly, "people think they can tell me which village in the west I am from.
Will you come to Donetsk?"
"Maybe," I say.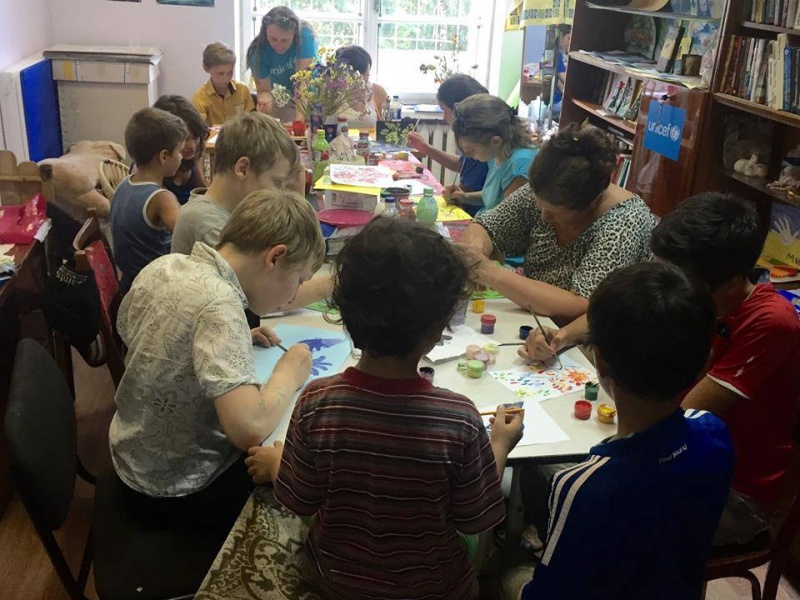 Displaced persons together with local children while learning at "AK-Tsentr" cultural and adaptation centre, Kharkiv
***
I arrive in Kharkiv. Soldiers in the station. Tension. A clearer glimpse of war.
It is 9am. A row of desks at the railway station, marked "help for IDPs" is manned by volunteers from local NGO Stantsiia Kharkiv (Station Kharkiv), and regional representatives of the Ministry of Social Policy. 
A week later, myself sitting behind the desks, I observe interactions between volunteers and IDPs, formulating a cross-section of the complex needs and life circumstances that pattern across this population. With limited resources, the volunteers assess the gravity of each case. The first three women that morning explain their situations. At times, tears slide down their cheeks, in what I understand to be a discordant mixture of frustration with the system, desperation, and relief to be heard. They become composed as they sip from little cups of water. I will come to rely on little cups of water quite often, during interviews.
The volunteer response to the influx of IDPs in Kharkiv is striking. In summer 2014, as trains emptied onto the platform, bodies packed into the station. Young, old, infant, pregnant. Many had nowhere to go. Whole families slept nights huddled there. A group of Kharkiv locals came together. They self-organised to find shelter, food, and clothes for those arriving. They worked tirelessly and generously.
People risked their lives to evacuate people from the "non-government controlled areas" (NGCA), negotiating access and distributing resources. I speak to Zhenya, a middle-aged lawyer, whose three-year-old daughter busies herself arranging plants and seashells on the desk. She counts them in English for my benefit.
"Yes, for a long time, I was what is called a 'wild volunteer'" Zhenya smiles, acknowledging the unlikely description. One day, Zhenya found herself packing provisions into the car, she says, and set off for the NGCA to distribute them to those in need. She would often go to help, until the government introduced a temporary order to regulate transit across the frontline, which required all persons to hold an official government-issued permit (propusk). As winter set in, and people began really to go hungry, they would not be able to stop themselves from distributing aid en route to their destination. Once a little boy came up from underground, and stopped them. His grandmother was bed bound, he said, and they had nothing to eat. He just asked for a sweetie.
There are pockets of help in all corners of Kharkiv, Zhenya says. Now some of this self-organised volunteerism has morphed into registered charitable foundations. By summer 2015, their work was organised around: information services, the distribution of humanitarian aid (nicknamed 'gumanitarka'), legal and medical consultations, livelihood development (and micro-finance initiatives), psychosocial support and targeted care. At "AK-Tsentr" cultural, adaptation, educational and creative projects open to all were encouraging integration and learning.
The original volunteer manpower is now bolstered by willing IDPs. Many of them are unemployed, and feel in need of purpose. Some would go mad otherwise, they say. Others say they are serving their country. Still others are looking for social connection, or to help those worse off.
The influx of people has much attenuated in recent weeks, tempering an urgent imperative for immediate action. There is disapprobation of "professional," acquisitive IDPs with a sense of entitlement. This seems to lack sensitivity to the compound difficulties that people are facing, I think, but I observe a few IDPs carousel between organisations with notable regularity.
I translate into English an application for exhausted volunteers to participate in "burnout training." Yet the spirit of dedication to the cause – and, in many cases, to Ukraine – prevails.
There are people who fled the bombings, people who feared economic degradation, and people who support a unified Ukraine. There are people who never decided to displace, but somehow found themselves here. Some hung on until the last. Others left before anything really started.
***
Ivan is 23. He lives in Donetsk, but has come to Kharkiv for some weeks for his studies. He works on the railway, and is looking to take on some supervisory or management duties. At times, he is full of anger. Have I heard that there is a war in the east? He used to earn quite well – 400-500$ a month. But now he does not earn so well. America and Russia are fighting a war in Ukraine. And people in Kyiv have no idea what is going on. But at least he still has work. There is a war going on, you understand? At home he grows cherries and strawberries. He misses that. They are not as sweet here. But there's a war going on, you understand? He will go back at the end of the week. He buys a cheap bottle of shampoo from an expensive shop so that he can give a birthday present to a friend in a fancy gift bag. Life goes on, people have birthdays. But there's a war going on. You understand?
***
Maria and Sergei, a couple nearing retirement age, spent a month in their basement after an "unpleasant event." When bombardment first began in Pervomaisk, they fell under fire. They are outside. Sergei is cycling, and Maria is running alongside. Then Sergei shouts – shelling! They stop. They are standing by a tree. About 1 metre thick. Shards fly. And the tree protects them. Shards fly on either side. And the tree shelters them. It is strange because they've been walking that route for 30 years, but have never noticed that tree.
For a long time after that, they could not leave. They stayed in the basement for fear.
They recount the politics and logistics of bread in detail. When the events started, the armed men would steal from the shops. They would come, shut up the shop, and take whatever they needed. The owners would flee, and they'd steal everything. It turned out that bread was being made in Gorsk and Popasna, which had ended up on the Ukrainian territory. Cars started to arrive in Pervomaisk … people were bringing bread to sell. Later, they were forced to give it out for free. So they stopped coming. Once they were left without bread. Four days. It was offensive.
Then they found out that it was being distributed in the bomb shelters. A neighbour from the first floor had seen them, completely by accident. She told them that there were people living in basements elsewhere, too.
The first time they come, they stand not far from the house.
Maria and Sergei run out. They give Maria bread, but not her neighbor who is 18 months younger. They say, "Go out and work, you look normal."
There was another week with no bread. Then they started bringing it from Stakhanov. They got a list of people living in basements: 150g per person. But there were days when they gave out 50g. Actually, Maria had never eaten so much bread.
In August, there were seven from their block left in the basement. Each day one stairwell, by rotation, took responsibility for fetching bread. They were under constant shelling. Standing in line, you could come under fire at any moment. To preserve sanity you have to keep glancing outside. But then, you may actually be driven mad by the fear that someone sees you.
They had prepared to spend three days down there. They thought the Ukrainian army would come and liberate them. But three days, one week, a month and a half … it became clear that they were not going to.
The most frightening thing was that it became cold to live in the basements. There was no light, no water, no telephone reception. At once after the first shelling they turned everything off. Water first, then gas, then light. They started to cook from the kettle. Maria learned how to stir in boiling water to warm things. After a little time kasha (porridge) would become edible. Then she learnt how to boil eggs. You get the water boiling in the kettle, and then pour it over the eggs. Then you put the water back in the kettle, and repeat. By about the fifth time, it's ok – the eggs are a little raw, but somehow you can eat them.
They stayed like that for about a week. Then they understood. Ah yes, then they turned out the lights.
Subsisting in a dank environment, households rubbed along together. There were snags, particularly during heavy shelling, but no fights. Some prayed. Others swore about President Poroshenko or Putin. To keep up to date on affairs, they brought battery-powered radios down. Other major sources of information were word of mouth, and the rumour mill. Maria and Sergei were suspicious of both sources.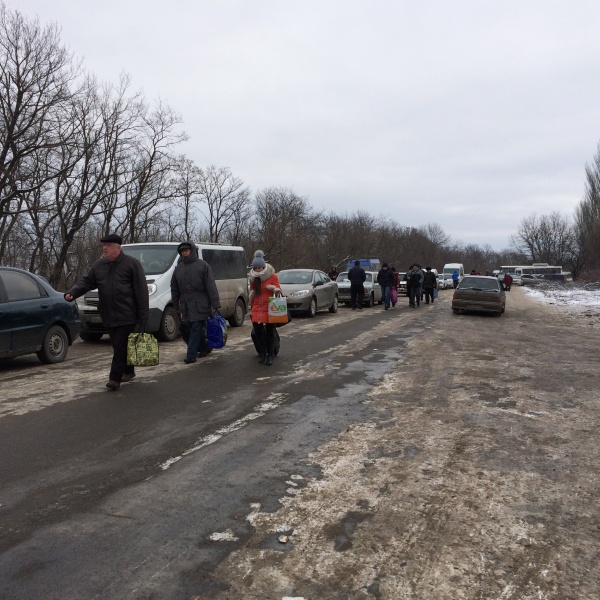 Crossing the demarcation line. Photo: Alisa Sopova
Why did they leave? Because of the damp of the basement. It had already begun to rain; the air was rancid. It became cold, very cold to sleep at night. Sergei began to get sicker and sicker. Things got worse and worse. Their son rang from abroad, persistently, calling them to him. When they saw that they would not be liberated, they took the decision to leave. From the start, leaving was for your own life. Because they simply kill. They fire. They shoot. Bukh bukh bukh … When firing comes from within the city itself they fly for less than a second. You do not have time to run, or even to react.
One day, somehow, they came to themselves, they say, and left in a car driven by one of the volunteers. They went to stay with their son – thank goodness, they still had six months left on their visas – before returning to Kharkiv.