Academic or Activist: How Should Scholars Engage the Public Sphere?
Jennifer Carroll
October 26, 2015
The twelfth and final panel of the 2015 Danyliw Seminar addressed broader issues of engaging in scholarly pursuits in times of war.
Oleh Kotsyuba, chief online editor of Krytyka, offered his perspective about the current state of academia and scholarly discourse in Ukraine. He framed his comments as an attempt to articulate what intellectuals and scholars have to contribute (and should contribute) to the changes taking place in the region.
In an ideal situation, Kotsyuba described, scholarly research should be integrated into policy making. This is often accomplished through the work of 'think tank' organizations, researchers working as political advisors, and even the advocacy of senior scholars who have the professional freedom to advocate for best practices. With mechanisms like these in place, political events could spark public debate and the rational discussion of ideas.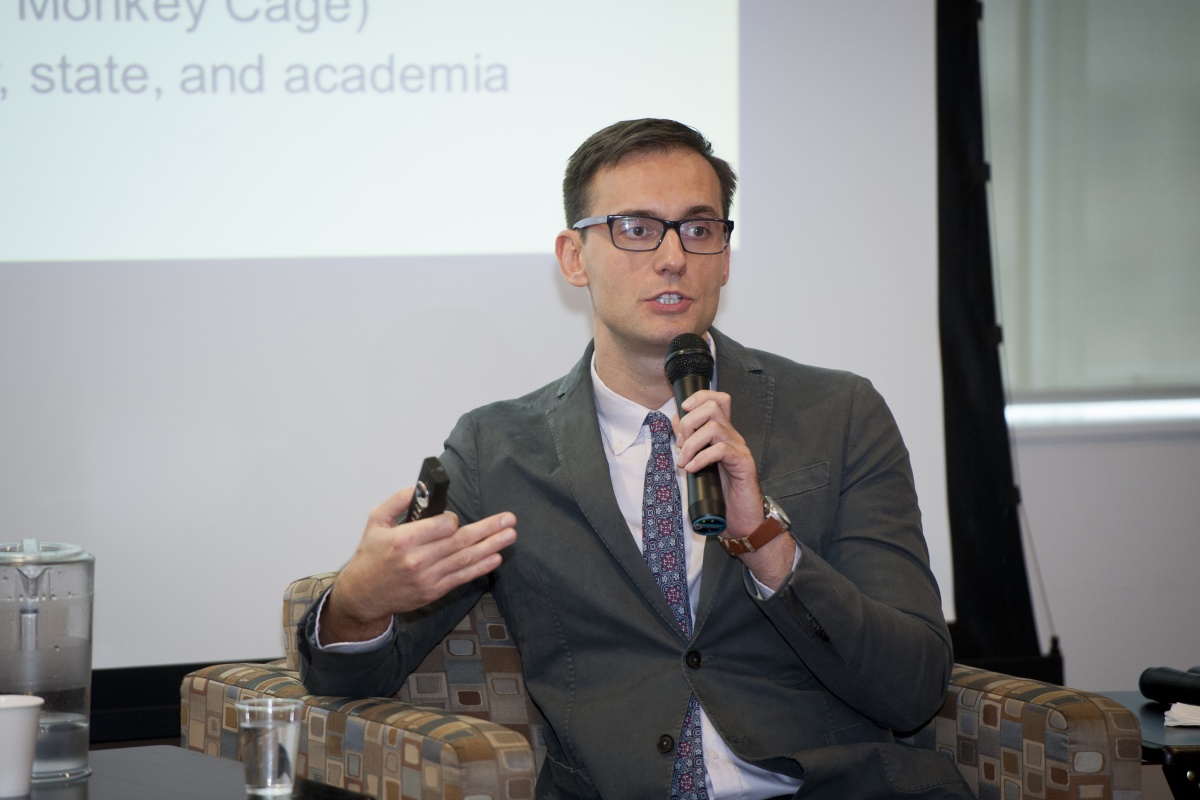 Contrary to this ideal, scholarly debate in Ukraine is characterized by emotional argumentation and ad hominem attacks, according to Kotsyuba. He argued that little policy relevant research is being done, that oligarchs dominate the mainstream media, and that independent media is marginalized, often lacking the funding or security needed to thrive.
Kotsyuba lamented that greater integration of scholarly and policy debates has not been realized following the Maidan revolution. He nevertheless characterized Krytyka, VoxUkraine, and Hromadske as pioneers in the effort to build such a discursive bridge.
"What really marks public debate in Ukraine," Kotsyuba argued, "is the absence of moderate views," even in these innovative forums. For example, several attempts made by Krytyka to foster wider participation in public debate (such as the 2010 Stepan Bandera discussion and organized debates over the recent "decommunization" laws) quickly devolved into a clash of extremisms, with pro-communists and pro-nationalists each finding some elements of their opponent's argument morally intolerable.
Mychailo Wynnyckyj then offered some thoughts on the sometimes-conflicting, sometimes-complementary roles of academic and activist. He noted that his bio was rather straight forward prior to Maidan: he was a sociology professor at the National University of "Kyiv-Mohyla Academy." He had helped form the MBA program at his university. He developed a new model of PhD education. After Maidan, his time was spent in venues other than the university: as a special advisor to the Minister of Education; as a team of experts working on higher education reform; as a consultant for the European Investment Bank.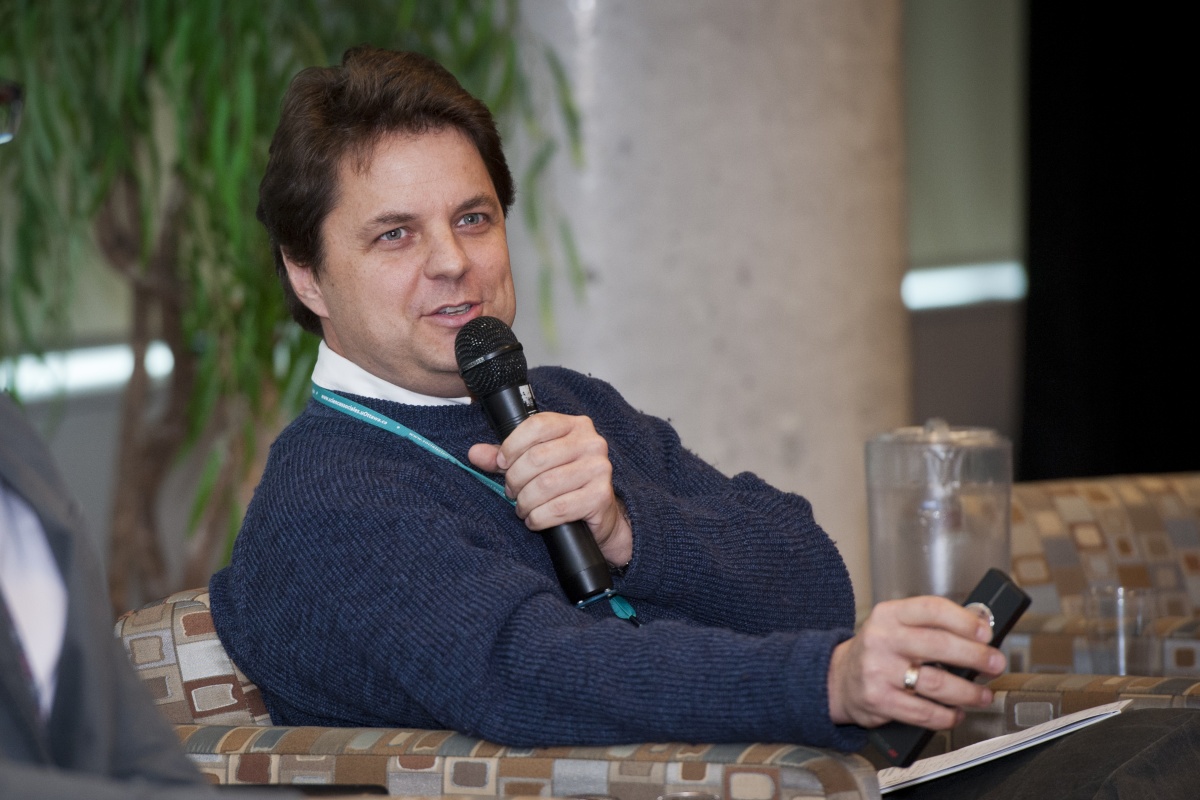 While Wynnyckyj's description of his new roles implied a sense of satisfaction in the work he is undertaking, he acknowledged that his academic and advocacy work competed with each other for his time. He said he was making efforts to find balance and return to the research that brought him to academia in the first place.
The scholarly work Wynnyckyj hopes to undertake in the coming year is a purposeful 'looking back' at Maidan for the purpose of understanding of what the revolution was and what has happened since. He argued that the revolution was a three-dimensioned event. First, it constituted in some ways what Hannah Arendt called "the completion or adjustment of historical trajectory;" in this sense, Maidan had what Wynnyckyj called a 'bourgeois dimension.' Second, the revolution had a national dimension, generating new forms of patriotism, which could replace ethno-nationalism. Third, Maidan had a post-modern dimension in that notions of personhood, relatedness, and leadership were operationalized in fundamentally new ways.
Wynnyckyj elaborated on the so-called 'bourgeois dimension' of the Maidan. He argued that many of Ukraine's new, post-Maidan elite are what Janine Wedel calls "flexians"—young, affluent, socially elite individuals who can move seamlessly between the worlds of business, politics, and public affairs. Wedel argued that such characters are typically a bad thing, as they are able to move nimbly between institutions to advance their own agenda from a protected vantage point. However, Wynnyckyj argued that one has to have such people around if one hopes to make lasting changes to society's core institutions.
In discussion, Margarita Balmaceda made an appeal to scholars' human limits, observing that it is certainly possible to be an activist and an academic, so long as you are not also teaching 20 hours per week, chairing department committees, grant writing, and doing all of the other essential tasks of academic life.  
International differences in scholarly parity were also discussed. More than one discussant suggested that emotional argumentation, ad hominem attacks, and personal conflict were a universal feature, not something unique to Ukraine. Olena Fimyar also noted that structural barriers exist locally as well, suggesting that bias against regional institutions and universities effectively barred local scholars from entering public debate in Ukraine.
Amandine Regamey argued that social engagement is more than just influencing policy. It is also working to empower NGOs and other forms of civil society. It is working to shift the way questions are asked and formulated. "I think you must stay an academic all the time," she opined, "whether you are acting as a social activist or in an academic field, you must respect the rules of the game of the academic world. This means especially using arguments based on sources that you can make public [and allow other people to contest]."
Kotsyuba noted that many participants in the seminar had also been involved in activism at the grassroots level, and asked whether this was the place for academics to be. He noted that the staff of Krytyka had abandoned their offices to respond to calls to help during the Maidan revolution. As a result of their volunteer efforts on the streets, the journal is now facing a publishing delay. What would have been more effective, Kotsyuba asked: going to participate in Maidan or remaining in the offices and making sure that this forum for scholarly and public debate remained open and accessible? "Maybe we should have spent our time trying to reach out with a message to the rest of the world that we are able to formulate but our [young people] are not," he mused. "We are not trying to enlighten people. We are trying to create meaning, which people can use in order to conceptualize their own reality."
Wynnyckyj took issue with the suggestion that an academic's role is not to enlighten. He argued that plenty of intellectuals in Ukraine are doing exactly this, referring to the 'flexians' he referenced in his formal presentation. "I'm not sure you have to agree to be an academic first," he said, "or that once an academic you have to always be an academic. The idea is that you have to 'flex' in order to do good."