Anders Aslund: "Ukraine: What Went Wrong and How to Fix It?"
Oleh Kotsyuba
October 23, 2015
Live streaming from the Danyliw Research Seminar on Contemporary Ukraine is available at http://krytyka.com/en/danyliw2015.
Anders Aslund opened the talk about his new book with an anecdote of how he wrote recommendations for reforms in Ukraine for virtually every government that came to power since Ukraine's independence, and how they were never realized once elections were over. Frustration from such inability of Ukrainian elites to implement key reforms motivated Aslund to write his new book in order to make his recommendations publicly available to those productive forces in Ukraine that are interested in implementing them. (The book was also published in Ukraine by the University of Kyiv-Mohyla Press.)
One of the main reasons for Ukraine's problems today Aslund sees in the fact that Ukraine did not have a sharp break with the heritage of the Soviet Union. At the same time, according to Transparency International Corruption Index (2013) Ukraine is a unique example of both great freedom and great corruption.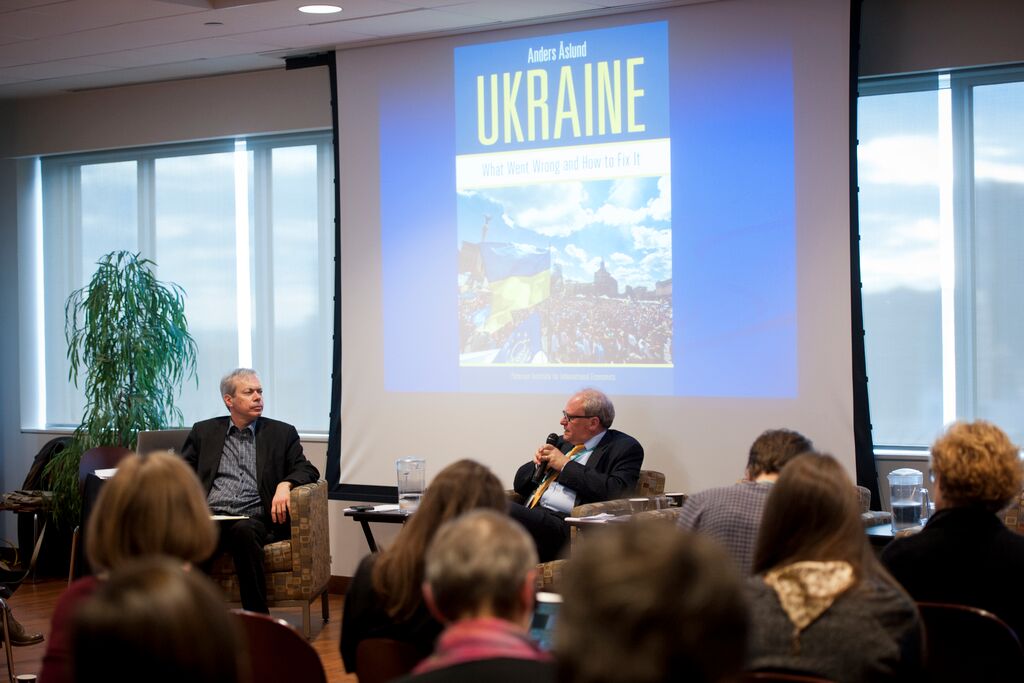 Aslund argued that things that need to be accomplished are well known and in some of them Ukraine has already achieved considerable progress:
political reform
reform of the state
financial stabilization
energy reform
social reform.
The role of the EU is very important here: European Union can help here as an anchor, because it has the legal framework for such a transformation (Romanian reforms are a good case in point for such a claim, Aslund argued). Reorientation towards Europe has to include the country's economy: Successful post-communist countries had up to 2/3 of their exports going to Europe. This was not the case with Ukraine because EU had not opened its markets to Ukraine until very recently.
Despite significant achievements in different reform efforts, some areas – such as reduction of regulation (closing of unnecessary state agencies) and corruption – remain rather unreformed.
Ukraine showed impressive progress in achieving financial stability: the situation was very dire in January-February 2015, when the local currency, Hryvnia, fell by 50%. At the same time, public debt has gone up to almost 100% of Ukraine's GDP. Ukrainian population feels the results of this when they compare their economic well-being before and after the Euromaidan protests.
In the energy sector, energy subsidies have to be abolished (70% already abolished).  Ukraine should also consider stopping buying gas from Russia entirely, as Gazprom's major goal is to provide revenues to strategic partners of Russia abroad and to corrupt Russian neighbors. Dmytro Firtash is a prominent case in point.
Looking to the future, Aslund emphasized that Ukraine's big risks today consist in Russian aggression (including Russia's severe trade war against Ukraine), underfunding from the EU and US, and the stagnating political transformation. While Ukrainian human capital has evolved enormously, its political institutions are significantly lagging behind.
Much of the discussion centered on recipes for effective reforms of Ukraine, beginning with the retirement system (Ukraine has one of the lowest retirement age that, however, also coincides with one of the lowest life expectancies in Europe: 66 years for men, and 76 for women), the influence of the oligarchs (we currently observe the decline of the "mega-oligarchs" and the rise of less wealthy businessmen), and the implementation of the reform of the judicial system and the institute of prosecutors in Ukraine. Some of the main debate ensued from Aslund's emphasis on the need for revolutionary (not evolutionary, as we observe in Ukraine today) pace of reforms, and whether such implementation would be compatible with a well-functioning democracy.
A significant part of the discussion focused on the generational change in the Ukrainian parliament, Verkhovna Rada, where a large part of the deputies consist of corrupt or even criminal politicians who avoid prosecution thanks to their status as parliamentarians. The issue of populism equally attracted a great deal of interest: the issue at stake currently is, for instance, the price of natural gas for households. In this regard it is indicative that both Yuliya Tymoshenko and Yurii Boyko advocate today for lower gas prices – the same people who made their enormous fortunes in gas business, thus they would likely know best whom such low prices would really benefit.
In response to the question from Mykhailo Wynnyckyj about the drivers of economic recovery in Ukraine, Aslund pointed to three industries as likely candidates: 1) Agriculture and food processing where massive expansion is possible when a legal land market is introduced (so that banks can use land as lien for crediting agricultural business). (This should become possible when governance improves.) 2) The second candidate is the IT sector.  3) The third is a development of advanced metallurgy for which Ukraine has to invest heavily into modernizing the steel works.
Replying to the question of Mikheil Saakashvili's role in reforming Ukraine and his possible ambitions for political office in Ukraine, Aslund maintained that Saakashvili is doing everything right in Ukraine, as he has done before in Georgia (although the main ideologue there was Kakha Bendukidze). However, by now Saakashvili must have realized how little power there is on the regional level in Ukraine which prevented him from achieving the goals he set for himself. Saakashvili has great political ambitions and it is difficult to predict how his career will evolve.