On Occasion of March 8th / Recasting of Meanings
Maria Mayerchyk
March 8, 2014
For three consecutive years, the Feministychna Ofenzyva [literally: the Feminist Offensive] Marches took place on International Women's Day.
For three years united members of human rights initiatives marched side-by-side against censorship and the National Commission on Morality (including the closure of the "Ukrainian Body" exhibition), against totalitarianism and authoritarianism. We criticized conservative traditionalist, xenophobic, and homophobic policies and voiced our support of reproductive and sexual rights, dignified labor laws, and pro-LGBT legal reforms.
For three years in a row, March 8th was a firework of our political victories. The treasury of our slogans includes: "Stop Covering up Inequality with Traditions", "Time for Church and State to Start Living Apart", "Human Rights Are Every Woman's Rights" (which is the correct way of saying this, since human being [liudyna] is grammatically feminine in Ukrainian), "8 hrs. of work + 4 hrs. in the kitchen + 24 hrs. with kids = 36-hour work day", as well as a series of "Yanukovych-style" slogans: "Spring is Here – Undress Yourself", "Turn off Sexism – Turn on Feminism."
My own mother attended our first march. She came with a banner that said "Unemployed Mothers Do Not Exist." Isn't this touching?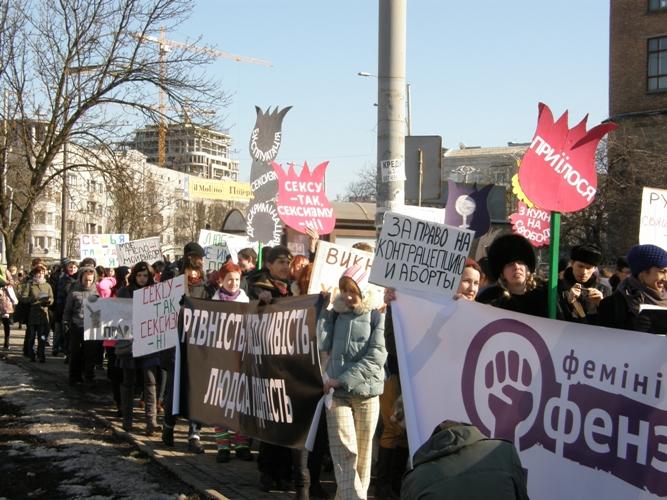 Events organized by the Ofenzyva lasted for a whole week. There were conferences, film showings, workshops, and exhibitions – a lot of exciting things. There were also all-night discussions, talks, and debates. We organized a daycare to allow women with children to take part and held our events in the evening to make sure we didn't exclude those working or studying during the day.
This year there will be no march.
Recasting of Meanings
I am trying to understand what happened and why. This year's march likely did not take place because Feministychna Ofenzyva, by consensus, has been recently shut down.
It is also likely that during these turbulent and difficult months people have lost their vigor and have had enough of revolutionary emotions.
But it is also likely that during these past couple of months the overall style of average citizens' thinking and political sympathies has taken a sharp turn to the right. And with it, the gradation of meanings has shifted as well. Now, right-wing slogans seem conventionally neutral, while left-wing liberal ones are interpreted as provocations, "trolling aimed at the Right." What feminist slogans have lost is not just their audience, but the very place from which they were voiced. The platform where they formed and from which they were transmitted has become blurry and shaky, it's gone. Not in terms of people, but in terms of discourse.
Experts criticizing the right-wing parties limit themselves to issues of ethnic xenophobia. They have pointed to the unexpected and positive non-xenophobic ideology of the Right Sector (in contrast to the position taken by the Svoboda Party). This is evident at least at the level of vocabulary. In an interview, Dmytro Yarosh (the Right Sector's leader) reportedly said that the Belarusian and Armenian victims of the protest were "comrades to me much more than any, pardon my language, communist creatures." Yet, at the level of the vocabulary used, this phrase is far from perfect, it exemplifies othering. The choice of words is revelatory: comrades and victims, as well as, by and large, creatures.
In the context of semantic shifts, I constantly encounter this undoing of meanings, this recasting, this sort of warping that leads to meanings being turned inside out. This is confusing and complicates the analysis. Such an endless stream of changes, leaving almost no fixed values​​ behind, makes one as dizzy as if inside a centrifuge.
For instance, LGBT leaders "welcome EU's prompt retraction of the nonsense about the 'gay marriages' requirement". Then they write an appeal that exhorts the public to "ridicule" the pseudo-gay campaign held one day on the Maidan and to try to stop it from happening by means of exclusively peaceful and non-violent measures such as shouting the word 'provocation!'" Take notice: gay organizations here do not criticize xenophobia at all, they do not address their comrades with the statement that homophobia is destructive, that through it one begins to be manipulated, that said comrades are afraid of scarecrows. They do not say: here we are – standing with you side-by-side defending the barricades, we have the same objectives. They do not say this. Some daredevils tried talking about it, but they faced a total lack of understanding. Unstable and uncertain though it was, a discursive platform from which such statements could have been made had become blurry and shaky even before anybody noticed its disappearance. When an appeal asks that gays be mildly persecuted, although those are fake gays, the use of such language betrays right-wing rhetoric and therefore asks to ridicule precisely those who represent gays, if only purportedly…
A Facebook friend of mine aptly described this situation: "It doesn't come to mind now for me to start chanting – as before during Perestroika – "Svoboda! Svoboda!" because I would have to explain at length that what I mean by it is not the nationalist party (Svoboda) but "Freedom!", which is the exact opposite. And when you say 'anti-fascism', you have to specify that what you mean is the exact opposite of Kolisnychenko and Dobkin's ideas. This is linguistic terror at its worst. Just like in Orwell's phrase: "War is peace, freedom is slavery, ignorance is strength".
Women have been consistently and impertinently othered at the Maidan. Of course, this practice is part of the post-Soviet "norm", and female participants for the most part were unaware of being othered; such rhetoric seems respectful and familiar to them. Isolated individual attempts to oppose this trend were hardly noticeable – a woman's voice in the male-dominated space can be barely heard.
In January, these isolated attempts were brought together and as a result a women's initiative called the Women's Company [Ukrainian: sotnia, that is, a company consisting of 100 men] was created. Inspired by the ideas of justice and equality, these activists planned to demonstrate that women were of equal importance at the Maidan. Then, according to the rules of the genre, their actions took a turn in the direction of right-wing discursive logic. The Women's Company used in its very name the rhetoric of military structures, announced its right to carry out its mission on the barricades, and began teaching self-defense classes. The organization's Facebook page is generously "garnished" with images of women in military armor – wearing helmets or dancing with batons, and so on.
And even though women activists say they are against violence, this has become the same old otherness, a confirmation of their second-rate status as women-wives-mothers-sisters-comrades-peacekeepers-helpers. Women participating in this initiative weren't able to come up with consistent war criticism, or to denounce the destructive role that military hierarchies play in peaceful resistance. In fact, they did quite the opposite: they attempted to "meet" the male standards – power and barricades – and became themselves the mechanisms of reinforcing this androcentrism. This is exactly what I mean by 'recasting of meanings': these women are no longer opposed to othering, but exacerbate it. On their Facebook page one reads phrases like "our sweet women volunteers" and comments saying that at the postcard-writing action on March 8th men should "make sandwiches and make them feel good."
Finally, I'd like to briefly address those men who are now voicing online their repentance and shame for not having taken a more active part in the physical conflict: If this is a way for you to save your own masculinity, readjusting it in accordance with the new system of meanings, then you leave us, your comrades, voiceless and destroy that very platform from which in pre-revolutionary times we changed the world together. For you, repentance might be a way of finding absolution, but for us there is no such place.
My criticism comes not from the outside, but from the very heart of the events. I find this right-wing shift symptomatic and regrettable, but at the same time I am searching within it for a strategy to resist power, which by way of struggle we are now taking under control.
I am grateful to Olha Plakhotnik for her assistance in preparing this text.
From Ukrainian translated by Natalia Godun; edited by Kelly Iacobazzy and Oleh Kotsyuba.