At first, there were only faint reports of military activity on the streets of Istanbul. First reactions from friends, family, and people who witnessed the deployment of soldiers and tanks to busy streets and who heard fighter jets flying low were those of disbelief and cognitive dissonance. Rumors of impending terror attacks or military drills spread. Soon enough, an official statement released on the Turkish Armed Forces website put all speculation to rest: there was a coup d'état underway.
The coup attempt happened at an intersection of myriad of circumstances. In terms of domestic politics, there were three pressing issues.
Firstly, President Erdogan has been trying hard to solidify his power for the past two years. Having been Prime Minister and leader of the AK Party in 2002-2014, Erdogan became the first President elected by the public vote in 2014. Since 2013, however, he has been trying to establish a presidential system and get rid of the Prime Minister position. This would eliminate the division of power and authority that exists between Prime Minister and President and combine them in one leader, thus ensuring Erdogan's place as the single ruler of the country for the foreseeable future.
Secondly, it has been a challenging decade for the state's struggle with PKK (Kurdish Workers' Party), an insurgent group that has been engaged in an armed conflict against the state in the Southeast region of Turkey. After several broken ceasefires, PKK declared a new ceasefire in 2013 following peace talks with the government. The imprisoned leader of the organization, Abdullah Öcalan, mediated these talks. However, on June 11, 2015, about two years after the ceasefire declaration, PKK declared an end to the ceasefire. This declaration was triggered by the results of the general elections on June 7th, when the Kurdish Political Party, HDP, won a little over 13% of the total votes and effectively denied the ruling AK Party a seat majority in the parliament. The AK Party, as the party with the most votes, was responsible for forming a coalition government. However, because they lost the seat majority in the parliament, the AK Party, headed by Erdogan, decided not to form a coalition government at all and rather to default to early elections on November 1, 2015.
Before the June and November parliamentary elections, in the summer of 2015, two prominent bomb attacks of Kurdish cities took place. The first happened on June 5th, merely two days before the June elections, during an HDP rally in Diyarbakır, killing four and injuring over 100 people. The second attack – a suicide bombing that killed 32 people – happened in Suruç on July 20th. It targeted activists who were headed to Kobane, a Kurdish province in Syria known for its resistance to ISIS, to deliver humanitarian aid for rebuilding the city. After the ceasefire was called off by the PKK on June 11th, the movement began selectively killing police officers in Southeastern Turkey. In August 2015, Erdogan declared that the "solution process" that was in motion to end the violent conflict between Turkey and PKK was suspended. This resulted in mutual attacks between the Turkish state and PKK and the lockdown of Turkey's southeastern provinces by the Turkish army. As a result, since the summer of 2015, Erdogan has been trying to fight against PKK and rally the Kurdish citizens under the banner of his AK Party, driving them away from HDP.
Thirdly, Fetullah Gülen, Erdogan's long-standing ally and an Islamic cleric who resides in Pennsylvania, USA, became his sworn enemy. The rift between the two that began in 2011 and increased in 2013, peaked when Erdogan classified Fetullah Gülen's organization as a terrorist organization (FETÖ) and its members as terrorists.1 Over the years, people aligned with Gülen assumed important positions within various branches of Turkish bureaucracy—including the police, the intelligence, and the military. For this reason, Erdogan suggested that members of the Gülenist movement created a "parallel state" and they thus needed to be purged from their positions in order to eliminate their influence.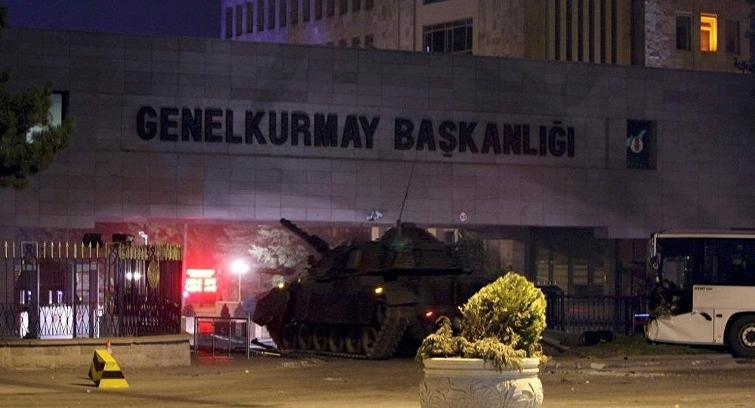 Internationally, Turkey has not been in a good place either—issues with the conflict in Syria have been the main reason for this. Turkey's failed policies toward sustaining war in Syria began to take their toll as refugees started pouring in from the Turkish-Syrian border. Since the inception of the Syrian Civil War, Turkey hosted increasingly more refugees—a number that is now in the millions. This has put considerable pressure on the Turkish economy and for that reason, since 2013, Turkey has been asking the UN and the EU to make greater financial contributions in order to support the migrants. Turkey gained important leverage with what is now dubbed as the Turkey-EU Refugee Deal, signed on March 18, 2016. The deal enables Greece to return to Turkey those refugees who arrived after March 20th in exchange for visa liberalization for Turkish citizens with the EU and financial support for refugees in Turkey. However, humanitarian organizations such as the Amnesty International criticized the deal as an illegal power-bid over refugees' lives. In addition to this criticized deal, Turkey entered a conflict with Russia. When Russian air strikes began in Syria, Turkey shot down a Russian Su-24 on November 24, 2015. After months of tension, President Erdogan apologized to Putin on June 27, 2016 in an effort to normalize relations.
The question of motivations behind the attempted coup complicates this already complex picture even further. As the coup was coming to conclusion, Erdogan and other government officials started pointing fingers to the "Gülenist Terrorist Organization" (FETÖ). The "purge" that began after the coup attempt was foiled and soldiers surrendered affected over 58,000 people, an astounding number by any measure. As of today [July 20, 2016 – Ed.], 7,500 soldiers have been detained (including 118 generals and admirals, and even Erdogan's own military attaché); 8,000 police have been removed from their posts and 1,000 arrested, 3,000 members of the judiciary, including 1,481 judges, have been suspended; 15,200 education ministry officials have lost their jobs; 21,000 private school teachers have had their licences revoked; 1,577 university deans (faculty heads) have been asked to resign; 492 clerics, preachers and religious teachers have been fired; many more people at the finance ministry, social policy ministry and Prime Minister's office staff have lost their jobs.2 These numbers continue to grow every day. Ahmet Şık, a Turkish journalist who wrote extensively on Fetullah Gülen's presence among the ranks of the state bureaucracy, and was detained for doing so, suggested that Erdogan's government was planning a purge of FETÖ affiliated officials from state bureaucracy even before the coup, thus those who attempted the coup were already under surveillance, and the coup attempt was a reaction to the upcoming purge.3
The "purge" that followed the coup attempt is so far-reaching and so comprehensive that it completely took over the public debate in Turkey. All the discussions and debates on Turkey's foreign policy or PKK have faded away. As some point out, Erdogan has already changed Turkey in his own favor. The failed coup made it possible for him to tighten his grip on the country and to make a persuasive move for a presidential system, in which he would be the single ruler of Turkey.
While the "purge" and Erdogan's grasp of power might be short-term consequences of the failed coup attempt, there are far worse long-term consequences that will affect Turkey and the life of Turkish citizens.
One long-term consequence will be the prevalence of religion in public space. As coup was unfolding and martial law was declared by its organizers on Turkey's official television network, TRT, Erdogan appeared on another television network through a smartphone and urged everyone to take it to the streets and confront the soldiers. There was a similar message shared by the official Twitter account of the Turkish Police HQ. Following these announcements, mosques in Ankara and Istanbul began issuing calls to prayer and urging "believers" to take it to the streets using religious rhetoric.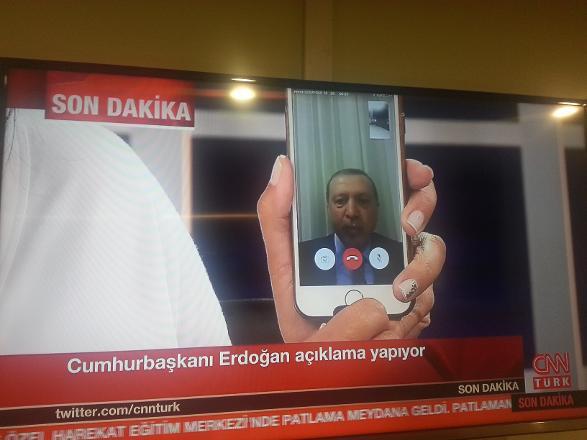 As a result, a large number of particularly religious AKP and Erdogan followers showed up to confront the soldiers. The divide that already existed between religious AKP supporters and the rest of the population widened even more after the coup attempt when Erdogan, at the funeral for his campaign manager who was killed in the coup, referred to those who oppose him as "viruses that need to be cleansed."  Thus many Turkish citizens questioned their assumptions of safety in public space. In fact, a US law firm that specializes in immigration posted a public announcement regarding the spiking number of asylum requests from Turkish citizens. These fears were mediated by circulating images of AKP supporters beating and beheading soldiers who had already surrendered. Unfortunately, the government did not seize the tragedy of the failed coup as an opportunity to heal the country. Instead, it saw it as an opportunity for vengeance and public humiliation of its political opposition. Therefore, the divide in Turkish society and polarization of opposing groups will only grow as time goes on.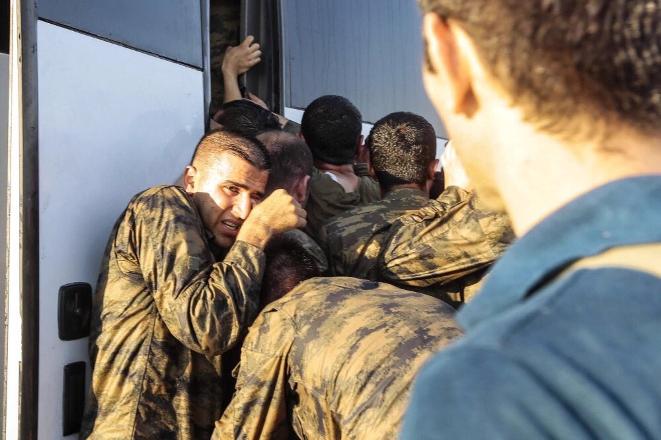 Another long-term consequence is the way in which this failed coup will push the country towards authoritarianism. This is not only evidenced by Erdogan's increasing desire for more power, but also by citizens rallying around his leadership. For instance, around the time when the coup attempt was being foiled, Erdogan landed at Istanbul Ataturk airport and spoke to the press. Towards the end of his speech, a journalist interrupted him and zealously exclaimed, "This whole nation is yours!" A vast number of Erdogan's supporters share this sentiment, while those who do not accept Erdogan's leadership are labeled as terrorists or traitors.
All in all, the coup attempt came at a time that benefited Erdogan on multiple fronts. Now he has not only a real chance to strengthen his power, but this is also justified by support from the people. Important questions that previously dominated the public debate and that cast doubt on Erdogan's leadership have now been pushed aside in favor of the "purge" and targeting those individuals and groups who dare criticize Erdogan. While it is too early to speculate about the extent of the failed coup's fallout, it is safe to say that Turkey will become more polarized and more susceptible to the idea of a one-man rule than it has been in decades.