The Theater of War: A Psychodrama Project Helps Ukrainians Deal with Trauma
Are you tired of depressing news? Don't wanna listen and talk about war anymore? Want something light to take a break from it all? Then go fuck yourself … go to another theater. Our performance "The Product" is about the unbearable – about death in a time war. In war, people don't die to the accompaniment of beautiful music with heroic shouts of Slava Ukraïni!1; they don't return in beautiful uniforms with medals to their cozy homes like in the movies and TV ads. Reality is different.
Or so states the theatrical announcement put out for "The Product," one of the most famous performances put on by Ukraine's Theater of the Displaced. As with all of the projects that this theater takes on, this one is also based on the lived experience of its author and sole actor, Alik Sardaryan, who served as a paramedic in the besieged town of Debaltsevo.
In another performance entitled "Captivity", young female documentary filmmaker Alisa Kovalenko narrates in agonizing detail how, in the spring of 2014, she was captured for several days by separatist fighters. Georg Genoux, the founder of the Theater, plays the role of a therapist guiding her through the story. "What did he tell you then?" he asks. She replied that the fighter said, "Now undress and take a shower!" "So, undress!" Georg exclaims, and Alisa obediently takes off her clothes and sits naked in an imaginary bathtub on the stage. At the premiere of "Captivity" at the Kyiv Golden Gate Theater, the audience was dumbfounded by what they saw and heard. Many admitted that they had not quite realized what was happening in their country until they saw this performance.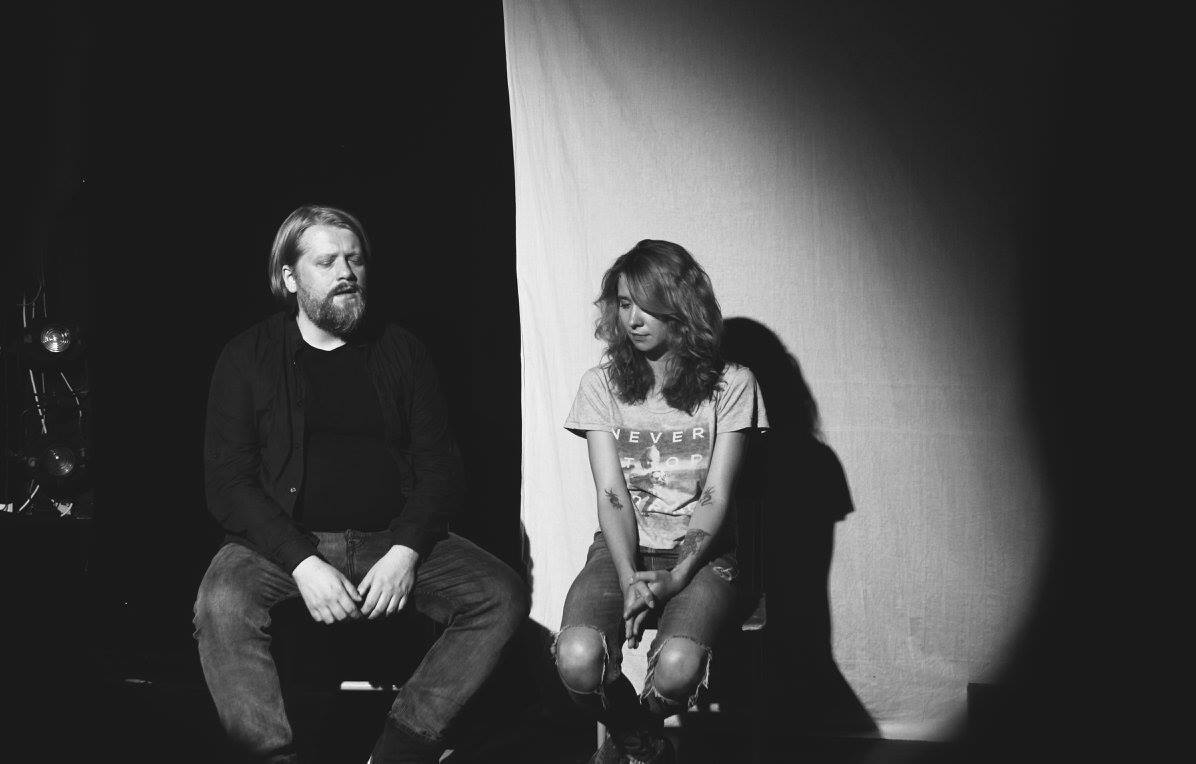 Georg Genoux, the founder and soul of the project, a 40-year-old man with a big beard and a kind face, is confident that this uncompromising tone – with all its costs – is the only ethical way for a theater to exist in a modern society. Especially in Ukraine. "In an increasingly virtual world, the theater has to become much more real [so that it can] deal with real problems," according to Genoux. "It's a bit of a strange feeling when you sit in one of the classical, state-run theaters in Kyiv, and they speak about things not connected with what is actually happening to people [today]. The crisis of war is our everyday life now, and we have to handle it. I found out the theater is the best method to do so."
The notion of a documentary theater, sitting on the edge of psychodrama and contemporary social critique, has always been central to Georg. Born in Germany, he moved to Russia in the late 1990s. Having graduated from the Academy of Theater Arts in Moscow, he co-founded the experimental Theater.Doc. Performances were based on true stories from convicts, migrants, and hostages that survived the Nord-Ost terrorist siege in Moscow in 2002. Later, Georg also founded his own Joseph Beuys Theater and launched the interactive drama project Democracy.doc, aiming at reflecting the attitude of Russian people towards the conception of democracy. All three projects were a success, but in 2012 Georg decided to leave Russia. He felt that the Zeitgeist was turning in the wrong direction; it was no longer an atmosphere he felt comfortable working in. The next two years he spent in Bulgaria. Suddenly, Maidan erupted,2  followed by the annexation of the Crimea and military conflict in the East of Ukraine. In autumn 2014, upon receiving an invitation from the Ukrainian playwright Natalya Vorozhbyt, Georg volunteered at a school in Mykolaïvka, a suburb of Slovyansk, heavily damaged by warfare that summer. This place would later serve as the backdrop for one of the region's most poignant pieces of political art in recent history: the play "My Mykolaïvka" and its companion documentary film "School #3." This experience led Georg and Natalya to creating the Theater of the Displaced.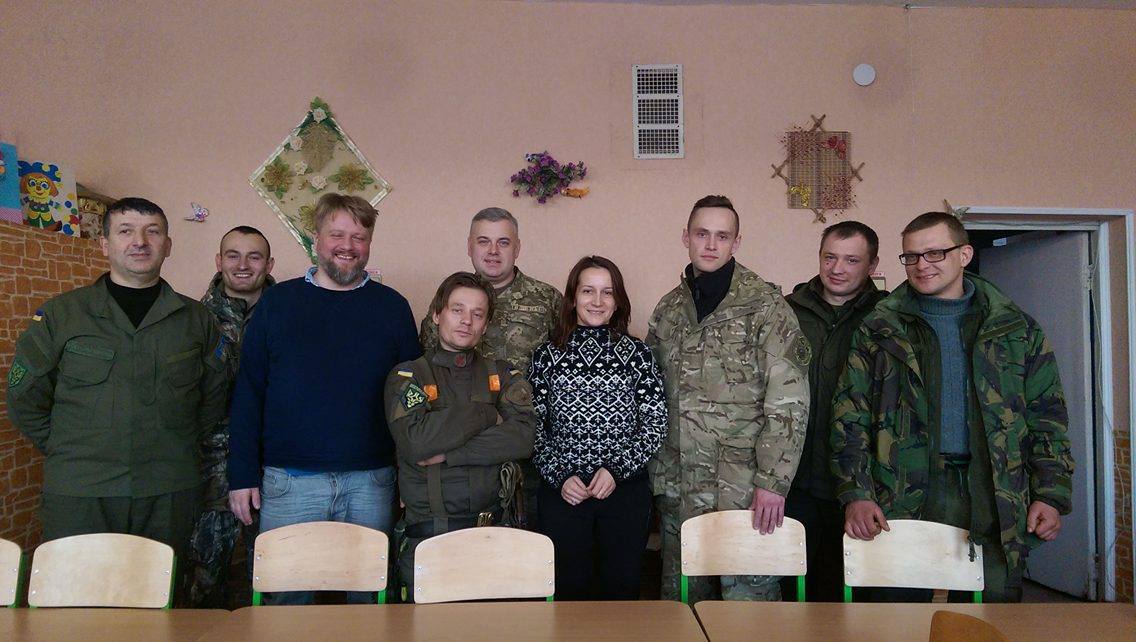 Including "displaced" in the name of the theater3 is telling because it carries a meaning that extends well beyond the refugees from the Donbas and Crimea. It taps into anomie. "It also refers to the general situation in the East of Ukraine, the situation of losing your place in the world. To me, people who live close to the frontlines are displaced people because they have stopped understanding where it is that they actually live. Soldiers are also displaced by war: they are not at home," Georg explains.
The most memorable performances of the first season were of individuals telling personal stories of war trauma – people like Alik Sardaryan and Alisa Kovalenko. With increasing traction, the Theater expanded to larger-scale initiatives in its second year. By the end of 2016, the team presented an ambitious project that sought to go well beyond the form of entertainment: no longer mere performance, their work evolved into a veritable reconciliation movement. Under the title "Children and Soldiers," it took place in three frontline towns: Popasna, Shchastya and Mykolaïvka. The relations between locals and soldiers of the Armed Forces of Ukraine are tense and riddled with mutual suspicion. Military men see the townspeople as pro-Russian and suspect them of secretly supporting the enemy; the locals, for their part, see military men as looters and murderers. Neither view is entirely baseless. Adding salt to the wound, they often speak different languages: Russian and Ukrainian.
The idea was simple. Setting up common areas in local high schools, the Theater of the Displaced put soldiers and teenagers side by side on the same platform. Through theatrical improvisations, children and servicemen shared their fears, attitudes towards each other, feelings about the war, and mundane thoughts about life in general. The results were astounding. "Even after we leave, contact usually continues. Soldiers come to schools, kids visit them at checkpoints, they go to picnics and celebrate holidays together," says the project's curator Anastasia Pugach. Georg Genoux describes participation in this project as "probably, emotionally the strongest experience I have had in my entire life."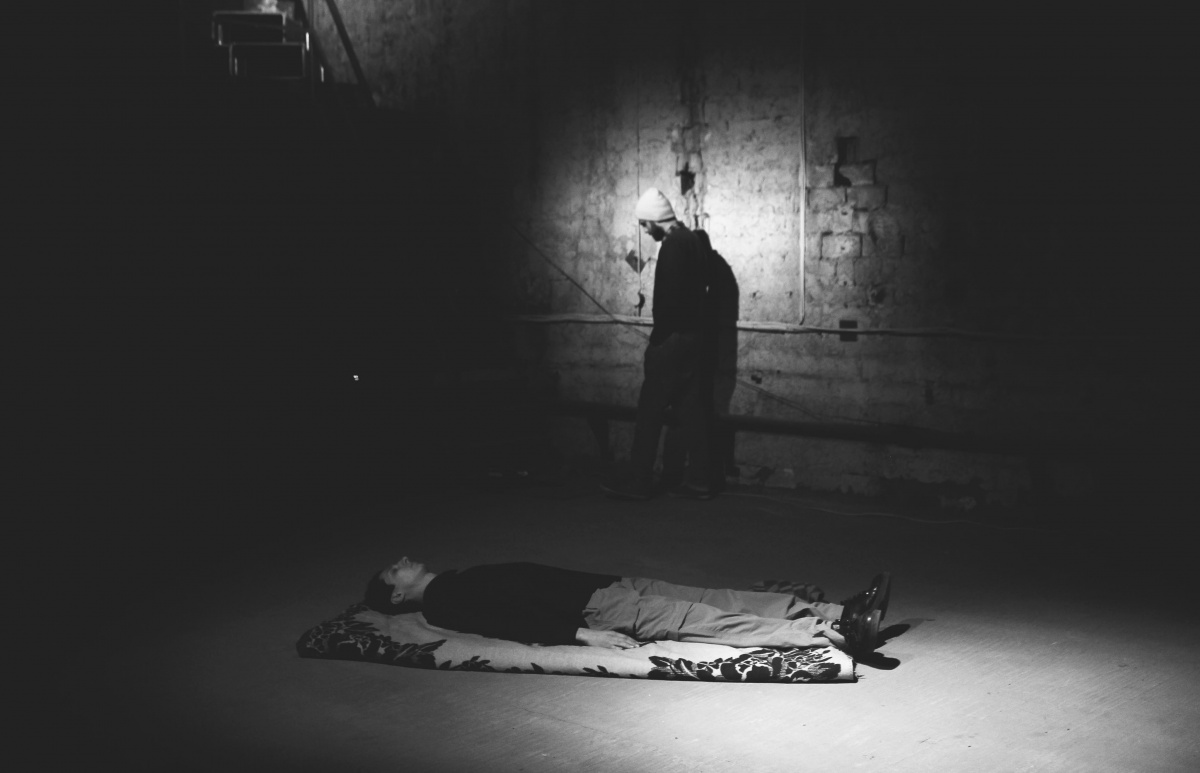 The theatrical projects also brought hope and fresh perspective to youngsters in the depressed towns along the frontline. The documentary "School #3" by Georg and his colleague Yelizaveta Smith, filmed in Mykolaïvk and based on local high schoolers' stories, was awarded a Grand Prix at the Berlinale 2017. Many of the film's characters – teenagers – had never set foot outside of their town. Now, they went to Berlin for a touted award ceremony. Thanks to their debut performances, many continued their education in Kyiv. Some are aspiring actors today.
Re-enacting real war traumas through public performance may sound risky for the amateur actors of the Theater of the Displaced. This is the challenge for Alexei Karachinsky, the team's military psychologist. His mission is to enable participants to open up in a way that helps with the healing process, yet does not lead to new trauma arising. The therapeutic process is the primary concern here, and the show follows along organically. "It is a real thriller, perhaps the most fascinating process one could ever observe – when a person just opens up. Here, we are not actors. We are real people with real stories. This is why so many people want to watch our plays and to discuss them – because it is suddenly a real process that is happening on stage," – says Georg Genoux.
Normal troupes are united in their professional training as actors. Here, the bonds are deeper. The Theater team is united by a shared worldview and values rather than a collective theatrical education. Since the very beginning, Georg and Natalya's initiative attracted people who felt that a traumatized Ukrainian society needed creative ways to reflect on what was happening. Alik Sardaryan quit his studies to become an activist at Maidan before serving as a paramedic on the frontline. He looks just like any other Kyiv hipster, but his eyes betray a maturity that 25-year-olds do not typically possess. He joined the Theater of the Displaced in search of a way to deal with his own traumatic experiences. Anastasia Pugach, a young sanguine woman with bright red hair, is a television journalist from Donetsk who fled the war to Kyiv. She started out by helping the Theater out with its press and communication tasks – and never left. Even Oleksandr Fomenko, one of the very few with any prior theatrical experience, was captivated. Following two years of performances, these three young individuals have claimed the torch from the Theater's founders: they entered their current season as the Theater's new chief curators. Leaving their legacy in the trusted hands of talented and devoted people, Georg and Natalya are returning to their own projects.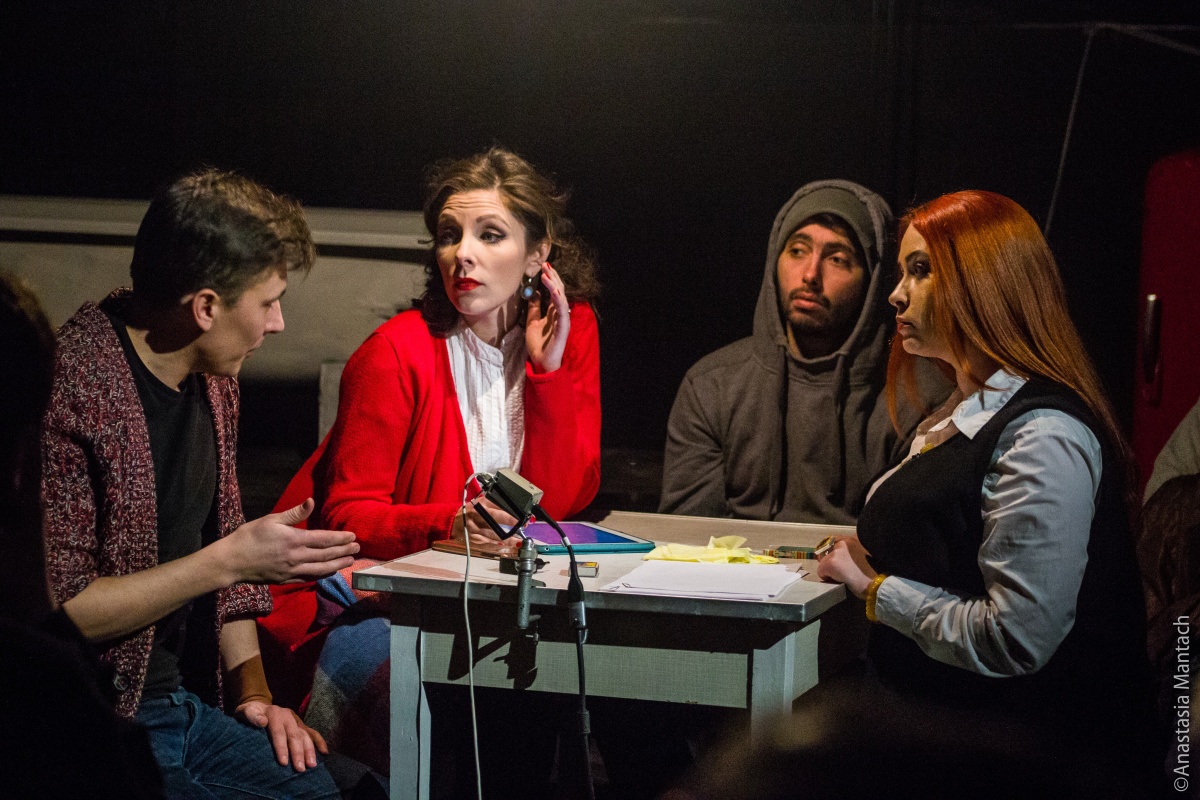 The new board of directors faces a number of challenges. Despite its stature as one of the brightest initiatives on the Ukrainian cultural scene, the Theater is not financially self-sufficient and does not have its own premises. Performances take place on the stages of partner theaters and rehearsals are held in a modest rented office in downtown Kyiv – all of which is funded by grants, donations and often paid out of the team members' own pockets. "Children and Soldiers" was supported by the Canada Fund for Local Initiatives, and the trip for the students from "School #3" to Berlin was crowd-funded on Facebook. Everyone on the team has to multitask. "In our new performance of Maxim Kurochkin's play 'Vodka, Fucking, and Television,' Oleksandr Fomenko plays the lead; simultaneously, he is also the play's producer. He also stays up all night building set decorations. The next day, he goes on stage," explains Anastasia. She, too, acts in this performance while curating "Children and Soldiers" and handling public relations, advertising and ticket distribution. Despite all the difficulties, she remains optimistic about the Threater's future with the potential for their crowd-funding efforts as well as through a lively dialogue with the government.
However, the real challenge they face lays much deeper than mere financial matters. In a society polarized by violence and plagued by notable lack of tolerance in a time of war, being a creative mediator is no simple task. The Theater of the Displaced takes controversial issues head on, without triggering aggression or nationalism – even through love stories. One of the characters of "School #3," an anime-looking teenage girl from a frontline town, is in love with a separatist fighter and weaves a bracelet in the colors of the Russian flag for him. A public narrative of this nature would normally be taboo in Ukraine. But the stirring testimony – in all its humanity – overcomes the nationalist narrow-mindedness. At the premiere of the documentary at the Odessa Film Festival, the audience accepted the story without an uproar, marking a significant step towards reconciliation.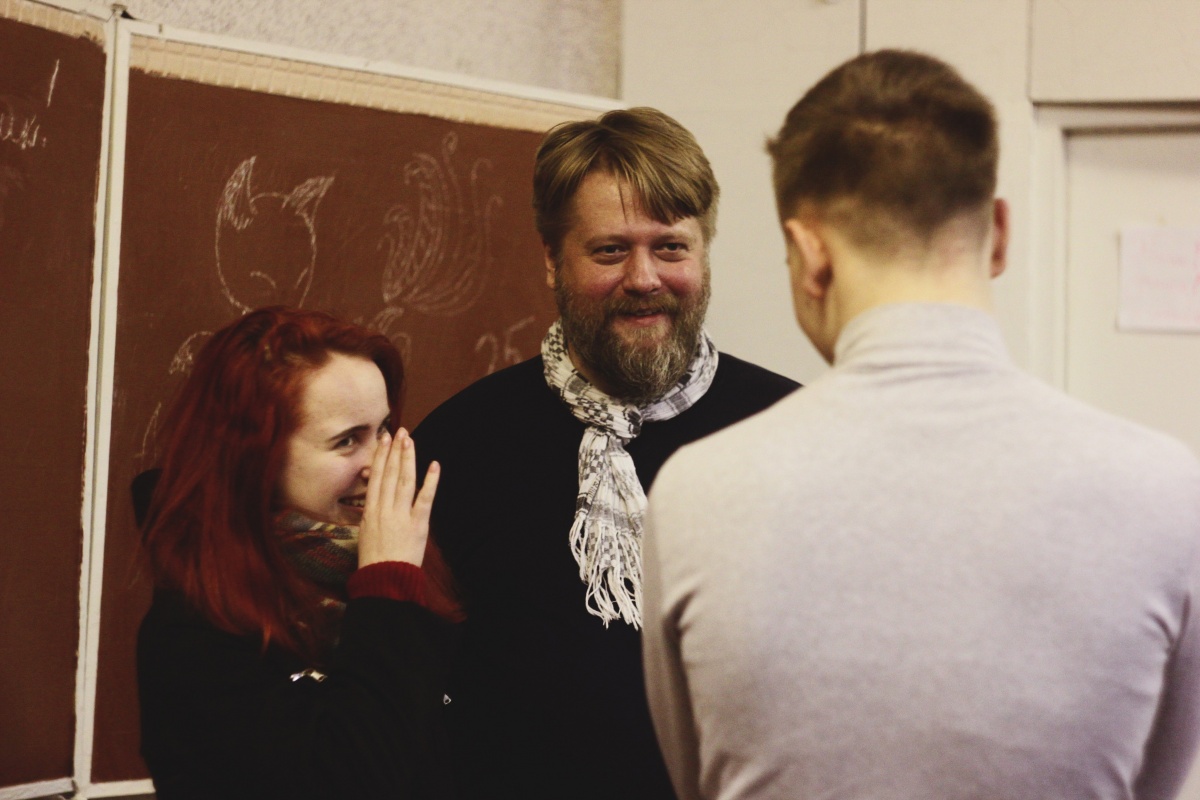 In their new project entitled "Class-Act: East-West," children from troubled regions of Eastern and Western Ukraine are brought together in creative tandems to write plays for performance by professional actors. "Children only say what they feel like saying. We can agree or disagree with their opinions, but it is their platform," explains Anastasia. "When we were selecting participants for "Class-Act" in the [frontline town of] Shchastya, we asked kids at the local school to write essays. One boy wrote that he 'hated Ukraine.' We decided that he should definitely participate in the project. We took him to Kyiv, and he simply blossomed there. Together with a boy from Rivne region he wrote a play in the Ukrainian language and was totally happy with it."
Georg Genoux argues that people are eager to renounce aggression, provided you offer them healthier alternatives. "We are not about aggression – we are about contact," he says. "Contact between people as well as contact with your own self. Because of the war, contact is difficult, and we try to build the space for it."
This article was edited by Devin Ackles and Oleh Kotsyuba.
1.

Ukr.: Glory to Ukraine, a prominent patriotic slogan adopted from the nationalist organizations of the past that fought for Ukraine's independence (editor's note).

2.

Euromaidan Revolution, also known as the Revolution of Dignity in Ukraine, 2013-2014 (editor's note).

3.

The name of the Theater in Ukrainian is Театр переселенця [Teatr pereselentsia, "theater of the displaced individual"] (editor's note).