Vaccination Crisis in Ukraine: Its Origins and Consequences
Preventative immunization has been celebrated as one of the greatest public health achievements in the history of mankind,1 and vaccines are the most cost effective method to reduce morbidity and mortality associated with infectious diseases.2 Nevertheless, public concerns about vaccine safety have always accompanied vaccination efforts, starting with the movement against mandatory smallpox immunization in Great Britain in 1860s3 and continuing into today.4 Despite these concerns, immunization rate (i.e. the proportion of population of a specific age that has received a particular vaccine) for major vaccine-preventable diseases across Europe remains high, at around 95%.5
In this regard Ukraine stands out from among its neighbors. The immunization rates of Ukrainian children have dropped from full compliance in the 1990's to 70% in the 2000's and less than 50% in 2014.6 How could a country with aspirations to join the European Union have such a drastically different rates of childhood immunization from the rest of the continent? While vaccine hesitancy is not unique to Ukraine, the erosion of trust in the government and the health authorities, widespread reliance on informal payments, and intransigent legal environment create perfect conditions for the catastrophically low levels of immunization in Ukraine.
Low Immunization Rates Put Ukraine's Entire Society at Risk – and Separate it Further from Europe
Before exploring why vaccine uptake is low, it is important to understand why it matters. Low vaccination rates have a real and immediate effect on public health. Annually, two to three million childhood deaths are prevented worldwide because of the immunization against diphtheria, measles, pertussis, and tetanus.7 However, immunization also plays a crucial role in the control of infectious diseases that extends beyond protecting the vaccinated against infection. Vaccines prevent the spread of disease not only among the immunized but also among unvaccinated individuals through the process known as "herd immunity."8 Thus, an additional benefit of mass immunization is greater disease control. The development of an effective vaccine, for example, helped eradicate smallpox entirely, even though not everyone could be vaccinated. Further, vaccines also provide protection not just against targeted diseases but from related conditions as well. The measles vaccine, for instance, reduces the incidence of dysentery, bacterial pneumonia and other complications; the human papilloma virus vaccine protects many females against cervical cancer. Finally, immunization is more cost effective than treating infectious diseases and mitigating outbreaks.9
In Ukraine, low vaccination rates deprive society of immunization's many benefits, and vaccine-preventable diseases remain prevalent. In 2012, there were 12,746 reported cases of measles, a dramatic increase from only 39 cases in 2010.10 That year Ukraine had the fourth leading number of measles cases in the world; only India, Indonesia, and the Democratic Republic of the Congo reported higher incidence.11 Similarly, in 2012 Ukraine reported 2,286 cases of pertussis and 1,952 cases of rubella to the World Health Organization12 as opposed to 1,067 and 2,333 cases, respectively in 2010.13 Every year since 1996, Ukraine has seen cases of mumps, diphtheria, and tetanus, all vaccine preventable diseases, with varying incidence. These statistics, however, underestimate the scope of the problem, as they reflect only laboratory-confirmed cases of infectious diseases. In 2015 Ukraine saw its first two cases of polio in nearly two decades. The rest of Europe has been entirely polio-free since 2005.14 International organizations have been warning Ukraine of a possible polio outbreak since 201015 and are now cautioning the government to act and curb the spread of other vaccine-preventable diseases. The United Nations International Children's Emergency Fund (UNICEF) reports that in 2013 only 50% of children under the age of 12 months were vaccinated against diphtheria, pertussis and tetanus; 37% against measles, mumps, and rubella; and only 52% against polio, which puts many children at risk.16
Relying on Media, not Science, Physicians Do Not Advocate for Immunization
In Ukraine, doctors fail to be effective vaccine advocates because they lack proper training and rely on information reported by the media, rather than science, to inform their immunization practices. Research conducted by the Brown University Ukraine Collaboration17 indicates that medical students at Bohomolets National Medical University are inadequately prepared to improve immunization rates.18 For example, almost 30% of surveyed medical students believe that it is "better" for a child to get immunity by getting sick, rather than through vaccination. Further, almost 60% of the medical students reported that they believe vaccines may cause autism. Both of these beliefs are untrue and have no scientific basis.19
Furthermore, doctors in Ukraine often rely on information from the media rather than scientific literature to make decisions about vaccines. In a Facebook comment, a young pediatrician cautioned concerned mothers against immunizing their children with the French polio vaccine provided by the government in response to the 2015 polio outbreak.20 In my conversation with her about the basis for such warnings, she confirmed that she was relying on the information she read in an online newspaper. The article she referred to had no scientific data, yet alleged without cause that the government was importing "unsafe" vaccine to conduct experiments on Ukrainian children.21 In general, the Ukrainian media does not meet the reporting standards for accuracy used elsewhere in Europe22 and is often exploited by the country's pharmaceutical businesses, which have financial stake in the Ukrainian market for vaccines.23  Due to insufficient scientific knowledge and the common reliance on the inaccurate media coverage of immunization issues, medical providers in Ukraine experience vaccine hesitancy.24 Instead of advocating for improved immunization among their patients, doctors often have doubts about the importance of mandated immunization program.25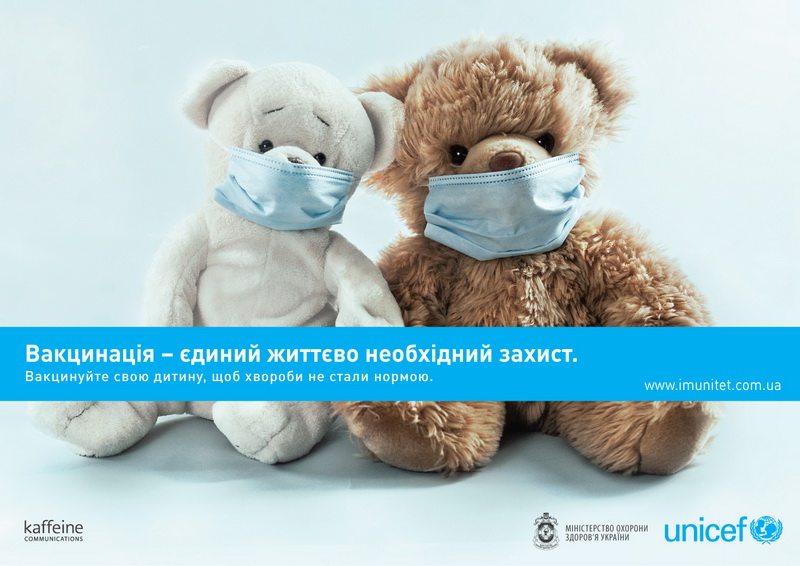 Those physicians who are supportive of immunization program are often reluctant to advocate for vaccination, thanks to a legal context that does not prioritize immunization. This is well illustrated by a case from 2008 when the Prosecutor General's office brought charges against a deputy Minister of Health, Mykola Prodanchuk, for overstepping his authority during a supplemental measles vaccination campaign.26 That vaccination campaign bore witness to the death of a teenager from Kramatorsk. Even though the subsequent investigation concluded that the death resulted from sepsis and was unrelated to the vaccine,27 false accusations in the media caused public outrage over the immunization campaign.28 Public attention to the case motivated the prosecution office to "use the case to promote themselves and discredit political opponents."29 Deputy Minister Prodanchuk spent almost two months in jail for his alleged involvement, even though the prosecution office could not provide evidence implicating him in the teenager's death. As is customary in Ukraine, the persecution officials resorted to force as a resolution of a medical problem with significant societal interest. While death and complications following any medical procedure require careful medical evaluation, the persecution office acted preemptively to reassure the public that the government was able to restore justice.  The damage to the trust in health authorities and the state-run immunization  program was irreversible.30 To this day, Ukrainian law mandates that if a child dies within 30 days of receiving a vaccination, the vaccine is listed as a cause of death until such time as an official investigation is conducted.31 This regulation opens up the potential for any physician who administers vaccines to suffer the same fate as Prodanchuk. Not surprisingly, this legal environment is a powerful disincentive for physicians who want to promote immunization, and it further erodes trust in the health authorities.
In Ukraine, It Is Easier to Buy Immunization Record Than to Receive Vaccination
In its current form, health care system in Ukraine contributes to the vaccination crisis by creating a market in which it is easier to buy immunization records than it is to receive high quality immunization care. In keeping with the previous provider-state Soviet model, the Constitution of Ukraine declares health care free to all citizens, irrelevant of the scope of the medical problem.32 The reality of such a generous, tax-funded system, however, was questionable even during the relatively more prosperous Soviet days; it is even more so in the context of independent Ukraine's struggling economy.33 Currently, the health care system is severely underfunded, and around 70% of health care consumers make informal payments for health services they receive.34 Additionally, 60% of Ukrainians believe that they "are able to get good health care only through bribes and connections."35 This reliance on informal payments and connections has created a shadow market in which not just medical services but also formal immunization records are available for sale. Kyiv physicians report that selling immunization records brings them more revenue than any other service they provide.36 There are websites and forums online, which detail where parents can buy immunization records necessary for school enrollment. As one such website that has since been taken down,37 fittingly advertised, "parents do not always have the desire or opportunity to fight the mandatory-voluntary immunization system in our country. It is easier to buy the immunization record through our website."
Why do parents choose to abstain from immunizing their children? Unlike other medical interventions, vaccines are not delivered to the sick. They are administered to a healthy individual, most often a child, to prevent future illness. Parents, therefore, need an extraordinary amount of trust in their health care provider and the health care system in general in order to vaccinate their children. Even though modern vaccines are safe,38 neither Ukrainian physicians nor the health care system are able to assist parents in navigating the complex issues of vaccine quality, risk, and benefits. Moreover, the procedures that have evolved around vaccination practices in Ukraine further erode parental trust in immunization. Since 2010, parents typically sign an informed consent form every time their child receives a vaccine.39 Such consent is not required by law but evolved as response of the medical community to the very real threat of prosecution following the 2008 Prodanchuk case. Instead of being reassured about a vaccine's safety and benefits, parents are forced to waive their right to hold a medical professional accountable for their child's health following the immunization.  This confidence gap is further exacerbated by media scares and unreliable Internet sources, which provide anti-vaccination movements a global reach.40 From inaccurate media and Internet sites, parents form beliefs about vaccinations that have no scientific foundation. One mother interviewed in Kyiv, for example, believes that "the chances of a child getting sick from a vaccine and from the disease itself are equal."41 Given the complexities around vaccination procedures, lack of trust in the health professionals and abundance of immunization myths in the media, it is clear why some parents find it easier to buy a fake immunization record for their child rather than to vaccinate them.  
Is There a Way Forward?
Immunization is a key public good that has immediate and real effects on the population health. Ukrainians are paying the price for catastrophically low vaccination rates through the re-emergence of vaccine-preventable diseases. The vaccination crisis in Ukraine has been decades in the making and is caused by a combination of the poor legal framework and the absence of reforms in the health care system. These two factors are amplified by a long-standing culture of distrust – physicians do not trust the government, patients trust neither the government nor their physicians, and, consequently, no one is able to put their faith in governmental immunization program. Resolution of this vaccination crisis will require a cross-sectional effort that will settle legal inconsistencies around vaccination practices, reconcile gaps in the medical education, enable the health care providers to become immunization advocates and, most importantly, will start the process of rebuilding the public trust in health authorities and the immunization program. Unless these complex issues are addressed, parents in Ukraine will continue to refuse vaccines and communicable diseases will continue to jeopardize the health of Ukrainian children.
Sources
Andre, F. E., Booy, R., Bock, H. L., Clemens, J., Datta, S. K., John, T. J., . . . Schmitt, H. J. (2008). Vaccination greatly reduces disease, disability, death and inequity worldwide. Bulletin of the World Health Organization, 86(2), 140-146. doi:10.2471/BLT.07.040089
Bagcchi, S. (2015). Inadequate vaccine coverage fuels polio outbreak in Ukraine. The Lancet Infectious Diseases, 15(11), 1268-1269. doi:http://dx.doi.org/10.1016/S1473-3099(15)00367-9
Bazylevych, M. (2011). Vaccination Campaigns in Postsocialist Ukraine: Health Care Providers Navigating Uncertainty. Medical Anthropology Quarterly, 25(4), 436-456. doi:10.1111/j.1548-1387.2011.01179.x
Danilova, M. (2009). Vaccine scare threatens health in Ukraine. Associated Press. Retrieved from http://www.nbcnews.com/id/29875914/ns/health-health_care/t/vaccine-scare...
Danyliv, A., Stepurko, T., Gryga, I., Pavlova, M., & Groot, W. (2012). Is there a place for the patient in the Ukrainian health care system? Patient payment policies and investment priorities in health care in Ukraine. Society and Economy, 34(2), 273-291. doi:10.1556/SocEc.34.2012.2.6
Duclos, P., Okwo-Bele, J.-M., Gacic-Dobo, M., & Cherian, T. (2009). Global immunization: status, progress, challenges and future. BMC International Health and Human Rights, 9(1), 1-11. doi:10.1186/1472-698x-9-s1-s2
Dworkin, M. (2011). Cases in Field Epidemiology: A Global Perspective: Jones & Bartlett Publishers.
Dyson, H. L., & Steen, D. B. (2009). Vaccinations : Types, Potential Complications, and Health Effects. Hauppauge, NY: Nova Science Publishers, Inc.
Folb, P. I., Bernatowska, E., Chen, R., Clemens, J., Dodoo, A. N., Ellenberg, S. S., . . . Wimalaratne, O. (2004). A global perspective on vaccine safety and public health: the global advisory committee on vaccine safety. Am J Pub Health, 94. doi:10.2105/ajph.94.11.1926
Global Health Security Agenda Assessment of Ukraine. (2015). Retrieved from http://stm.fi/documents/1271139/1356256/GHSA+Ukraine+Assesement+2016/711...
Holt, E. (2013). Ukraine at risk of polio outbreak. Lancet (London, England), 381(9885), 2244. doi:10.1016/S0140-6736(13)61469-5
Immunization Coverage Estimates. (2014). WHO and UNICEF estimates of national immunization coverage.  Retrieved from http://www.who.int/immunization/monitoring_surveillance/data/ukr.pdf
Khowaja, A. R., Khan, S. A., Nizam, N., Omer, S. B., & Zaidi, A. (2012). Parental perceptions surrounding polio and self-reported non-participation in polio supplementary immunization activities in Karachi, Pakistan: a mixed methods study. Bulletin of the World Health Organization, 90(11), 822-830. doi:10.2471/BLT.12.106260
Larson, H. J., Cooper, L. Z., Eskola, J., Katz, S. L., & Ratzan, S. (2011). Addressing the vaccine confidence gap. The Lancet, 378(9790), 526-535. doi:10.1016/S0140-6736(11)60678-8
Lee, L. A. (2013). The estimated mortality impact of vaccinations forecast to be administered during 2011–2020 in 73 countries supported by the GAVI Alliance. Vaccine, 31, B61. doi:10.1016/j.vaccine.2012.11.035
Lekhan, V., Rudiy, V., & Richardson, E. (2010). Ukraine: health system review. Health Syst Transit, 12.
Lim, S. S., Stein, D. B., Charrow, A., & Murray, C. J. (2008). Tracking progress towards universal childhood immunisation and the impact of global initiatives: a systematic analysis of three-dose diphtheria, tetanus, and pertussis immunisation coverage. Lancet, 372. doi:10.1016/s0140-6736(08)61869-3
Luck, J., Peabody, J. W., DeMaria, L. M., Alvarado, C. S., & Menon, R. (2014). Patient and provider perspectives on quality and health system effectiveness in a transition economy: Evidence from Ukraine. Social Science & Medicine, 114, 57-65. doi:http://dx.doi.org/10.1016/j.socscimed.2014.05.034
MacNeil, A., Dietz, V., & Cherian, T. (2014). Vaccine preventable diseases: Time to re-examine global surveillance data? Vaccine, 32(20), 2315-2320. doi:http://dx.doi.org/10.1016/j.vaccine.2014.02.067
Petryshyn, M. (29 October, 2015). Facebook comment. https://www.facebook.com/jaryna.zholobgronska/posts/1250913491600830?com....  
Pryhodko, T. (2010, May 12). Za chto i skolko vrachi berut vziatki i kak etogo izbezhat. Segodnya.ua. Retrieved from http://www.segodnya.ua/newsarchive/za-chto-i-ckolko-vrachi-berut-vzjatki...
Pryhodko, T., & Lukjanchuk, Y. (2015, August 24, 2015). Vakcynacija proty poliomielitu 2015 - bezhluzdyj eksperyment nad 1,5 mln ukrajinskyh ditej. Apteka.ua. Retrieved from http://www.apteka.ua/article/341874
Sadaf, A., Richards, J. L., Glanz, J., Salmon, D. A., & Omer, S. B. (2013). A systematic review of interventions for reducing parental vaccine refusal and vaccine hesitancy. Vaccine, 31(40), 4293-4304. doi:http://dx.doi.org/10.1016/j.vaccine.2013.07.013
Spier, R. E. (2001). Perception of risk of vaccine adverse events: a historical perspective. Vaccine, 20, S78-S84. doi:10.1016/S0264-410X(01)00306-1
Stern, A. M., & Markel, H. (2005). The History Of Vaccines And Immunization: Familiar Patterns, New Challenges. Health Affairs, 24(3), 611-621. doi:10.1377/hlthaff.24.3.611
Subaiya, S. D., Laure Lydon, Patrick Gacic-Dobo, Marta Eggers, Rudi Conklin, Laura. (2015). Global Routine Vaccination Coverage, 2014. World Health Organization Weekly Epidemiological Record, 46(90), 617-632.
Twigg, J. L. (2016). Polio in Ukraine. Crisis, challenge, and opportunity. Retrieved from Washington, DC:
UNICEF Annual Report Ukraine. (2013). Retrieved from http://www.unicef.org/about/annualreport/files/Ukraine_COAR_2013.pdf
Wasey, A., Radysh, A., Krasiuk, V., Hirway, P., Bachmaha, M., Skurkovich, B., . . . Petrenko, V. (2015). Assesing Vaccine Attitudes and Beliefs Among Medical Students in Ukraine: Findings from a Survey Conducted at Bogomolets National Medical University. Paper presented at the European Society for Pedicatric Infectious Diseases, Leipzig, Germany. Poster retrieved from
WHO. (2012). WHO World Health Statistics. Retrieved from http://www.who.int/gho/publications/world_health_statistics/2012/en/
WHO. (2014). World Health Statistics 2014. Retrieved from http://www.who.int/gho/publications/world_health_statistics/2014/en/
1.

Dyson & Steen, 2009; Larson, Cooper, Eskola, Katz, & Ratzan, 2011

2.

Dyson & Steen, 2009; Lee, 2013

3.

Spier, 2001

4.

Khowaja, Khan, Nizam, Omer, & Zaidi, 2012; Larson et al., 2011; Sadaf, Richards, Glanz, Salmon, & Omer, 2013

5.

Subaiya, 2015

6.

Bagcchi, 2015; "Immunization Coverage Estimates," 2014; Twigg, 2016

7.

Duclos, Okwo-Bele, Gacic-Dobo, & Cherian, 2009

8.

Herd immunity or community immunity occurs when a contagious disease enters a population that has a high proportion of people with immunity that protects them from this disease. In such an environment the infection cannot easily find a host and is likely to disappear. Herd immunity applies only to contagious diseases. Tetanus, for example, is infectious and vaccine-preventable but not contagious, so the principles of herd immunity do not apply. Read more here http://www.vaccinestoday.eu/vaccines/what-is-herd-immunity/

9.

Andre et al., 2008; Lim, Stein, Charrow, & Murray, 2008

10.

Holt, 2013; WHO, 2012, 2014

11.

MacNeil, Dietz, & Cherian, 2014

12.

WHO, 2014

13.

WHO, 2012

14.

Bagcchi, 2015; Twigg, 2016

15.

Holt, 2013

16.

UNICEF Annual Report Ukraine, 2013

17.

Brown University Ukraine Collaboration was founded in 2011 and is a joint venture between the Brown University Center for AIDS Research (CFAR) and HIV health and service providers in Ukraine. The collaboration engages the resources of Brown University to work with Ukrainian health providers to address the challenges of the HIV/AIDS, tuberculosis (TB), other infectious diseases and public health issues among Ukraine's most vulnerable groups. More info is available here: https://www.brown.edu/initiatives/global-health/brown-university-ukraine...

18.

Wasey et al., 2015

19.

Dyson & Steen, 2009; Folb et al., 2004; Stern & Markel, 2005

20.

Petryshyn, 2015

21.

Tetiana Pryhodko & Lukjanchuk, 2015

22.

Danilova, 2009

23.

Twigg, 2016

24.

Danilova, 2009; Twigg, 2016

25.

Bazylevych, 2011

26.

Bazylevych, 2011

27.

Danilova, 2009; Dworkin, 2011

28.

Danilova, 2009; Twigg, 2016

29.

Danilova, 2009, p. 2

30.

Bazylevych, 2011; Twigg, 2016

31.

Twigg, 2016

32.

Lekhan, Rudiy, & Richardson, 2010

33.

Luck, Peabody, DeMaria, Alvarado, & Menon, 2014

34.

Danyliv, Stepurko, Gryga, Pavlova, & Groot, 2012

35.

Luck et al., 2014, p. 62

36.

Tetiana Pryhodko, 2010

37.

There is a variety of businesses that sell medical records online, for example http://sicklist.com.ua

38.

Dyson & Steen, 2009

39.

Global Health Security Agenda Assessment of Ukraine, 2015

40.

Larson et al., 2011

41.

Danilova, 2009